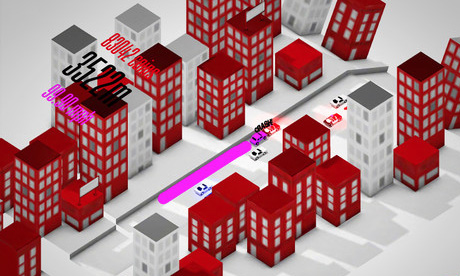 Developer:
Chillingo Ltd.
Compatible with:
iPhone 3GS and up (optimized for iPhone 5)
iPod Touch 3rd gen and up
iPad
Requires:
iOS 4.3 or later
Price:
$0.99
Available here
With well over 20 million downloads, one of the biggest successes of the mobile gaming era has been "Temple Run". It's concept couldn't be more simple as you control a man perpetually running and avoiding obstacles to escape from a temple. It's a basic idea executed to perfection, and even helped to popularize its own genre of games in the "endless runner", a genre that hasn't exactly been prolific in terms of entries that don't suck.
One very notable exception was recently released though in Chillingo Ltd's "Endless Road". Much like it's forerunner, the idea is elementary, as you are tasked with driving an endless road and avoiding the obstacles in your path, all while gathering coins to purchase upgrades with that range from new vehicles to paint that trails your wake. Along the way are also various jumps and inlaid arrows that speed you up, and can slow you down.
It would be a very unremarkable and forgettable game if it weren't for a couple of wrinkles in the formula that enhance the experience. The first is the actual road which is constantly folding in on itself as the section behind you falls in your wake, while the road ahead springs up as you progress. It lends a great visual cue that gives you a constant, and necessary, feeling of tension. This tension is only increased by the game's expertly used soundtrack, that's constant driving beats provide the perfect sense of urgency.
But what really sells the title is the amazing graphics. While not pushing any technical limitations, the fact that every stage presents a new theme, color pallet, and always tougher series of unique obstacles, means that you never really encounter a moment that takes you out of the game and makes you realize the basic monotony of what you are doing. Instead, it adds to the already impossible addictive nature of this type of game as you can't wait to see what lies ahead.
Is this another case of style over substance then? Oh most definitely. But that doesn't mean the core gameplay concept of attempting to maintain a constant speed of 80 MPH or greater in order to not fall into oblivion isn't absurdly fun on its own, but rather that even that just serves as a showcase to the abundance of creativity the development team has put into every visual. There's not a millimeter of screen space that isn't used to full effect, and little touches like a left and right path at the end of each level leading to different environments exemplify how much Chillingo was able to milk the concept for all of the addictiveness and replayability it is worth.
Much like tower defense titles and "Bejeweled" knock off puzzle games, endless runners should have worn their welcome out by now. However, it's thanks to games like "Endless Road" that keep people coming back to the genres by providing perfect execution of the original ideas, and very fresh coats of paint.  With everything in this game's arsenal it perfectly exemplifies the idea of the great Texas country singer Robert Earl Keen who said "the road goes on forever, and the party never ends."
And if you know me at all, you know any game that lets me quote Robert Earl Keen is going to earn the app of the week.
Posted in: Entertainment
Tags: App of the Week, app reviews, app reviews for dudes, app reviews for guys, app reviews for men, apps for the holidays, artistic games, best 99 cent gaming apps, best apple apps, best endless runner apps, best gamin apps, Best iPhone Apps, best mobile games 2012, Best New Apps, Chillingo Ltd, Endless Road, endless runner apps, iTunes apps, Minimalist games, New Apps, new mobile games, racing apps, Robert Earl Keen, Temple Run, the road goes on forever and the party never ends