From the Big Screen to the Small Screen: TV Series Inspired By Movies
Given that NBC's new series, "Parenthood," was inspired by the 1989 Ron Howard film of the same name, it was hard to resist the opportunity to take a look back at some other programs which originated on the silver screen. Obviously, Hollywood has never been afraid to recycle its properties – because, y'know, it's just so much easier – but when you've got a good (and familiar) premise and you've got writers who know how to build on it, then why not take advantage of it? Not every film deserves to be turned into a television series, a fact which is borne out by this list of 15 such shows that never got past the pilot stage (and sometimes it worked just as badly in reverse, as you can see here), but looking back on the television landscape and seeing what classic series have emerged as a result, it's hard to complain.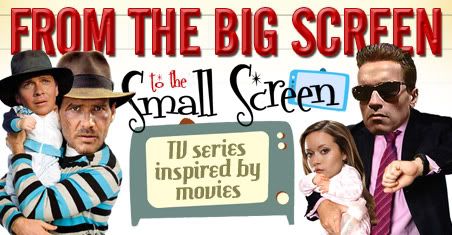 First up, a list of our 20 favorite series inspired by movies. You'll likely disagree with some of our choices, but…well, frankly, you always disagree with some of our choices, and we've learned to live with that.
1. The Odd Couple (ABC, 1970 – 1975): Yeah, we know it's technically a TV series inspired by a play, but it never would've been made if the movie version hadn't been a success first. Believe it or not, Tony Randall actually wanted Mickey Rooney to play the Oscar Madison to his Felix Unger, due to the success they'd had together when they played the roles together on Broadway, but the series' executive producer, Garry Marshall, fought for Jack Klugman and won.
Nice one, Garry: the chemistry between Randall as the fastidious Felix and Klugman as the slovenly Oscar proved so strong that it's now hard to imagine anyone else playing either role. They also each won Emmy awards for their performances: Klugman won twice – in '71 and '73 – and Randall won in '75, observing in his speech how he wished he had a job. (The show had since been canceled!)
Looking back at "The Odd Couple," you may notice that the first season of the series looks notably different from the four seasons that followed. That's because the decision was made to switch from single-camera to multi-camera, thereby giving the cast the opportunity to perform the show in front of a studio audience…not unlike a play, appropriately enough. No matter what season you happen upon, however, it's still a TV classic. Sometimes it's because of the guest stars (Oscar's career as a sportswriter led to many an athlete being worked into the proceedings), sometimes it's because of the situations the guys find themselves in (I'm thinking in particular of when Oscar invited Felix to be his partner on an episode of "Password"), but no matter what the scenario, it's Randall and Klugman who bring home the laughs…so much so that, when you mention "The Odd Couple," you immediately think of those two guys over Jack Lemmon and Walter Matthau. Now that's what I call a successful movie-to-TV adaptation!
2. M*A*S*H (CBS, 1972 – 1983): In the grand scheme of TV shows made from feature films, surely there's none more commercially and artistically successful than "M*A*S*H." Based on the 1970 Robert Altman film of the same name (which in turn was based on the book by Richard Hooker), it was an unlikely candidate for a hit series, and yet that's exactly what it ended up being. Both movie and TV show showcased the frustrations of the Vietnam War through the lens of a group of Army medics operating during the Korean War (or conflict, depending on to whom you talk). Even though the series' highpoint was the first three seasons, which displayed a far more madcap, almost anarchic vibe, the TV-viewing public couldn't get enough. The show, enduring numerous cast changes along the way, ran for a whopping 11 seasons, effectively lasting four times as long as the Korean War itself. The series finale in February of '83 was, until recently, the most watched TV event in U.S. history, but Super Bowl XLIV came along and smashed that record. – Ross Ruediger
3. Alice (CBS, 1976 – 1985): If ever there was an oddball movie on which to base a TV show, 1974's "Alice Doesn't Live Here Anymore," directed by Martin Scorsese, was that movie. The relatively straightforward dramatic piece about a widowed mother of one struggling to make her way in the world was reimagined as a half-hour sitcom. By all counts, this series shouldn't have made it past one season, and yet it lasted a mind-boggling nine years. Well, it's really only mind-boggling to someone who hasn't seen the show, because anyone who has, likely understands this sitcom's place in TV history. Alice Hyatt (Linda Lavin), who in the series is divorced rather than widowed, travels across country with her son Tommy, seeking fame and fortune on L.A. as a singer, when her car breaks down in Phoenix. She's forced to take a job at a local greasy spoon called Mel's Diner owned by Mel Sharples (Vic Tayback, reprising his role from the film). There she finds friendship and zany antics amongst Mel's employees and clientele. "Alice" was an ideal blue-collar premise for '70s TV viewers, particularly women, many of whom understood Alice all too well. The show also brought the catchphrase "Kiss my grits!" (thank you, Polly Holiday) to the table and its possible TV hasn't recovered since. – Ross Ruediger
4. Logan's Run (CBS, 1977 – 1978): It's probably a little easier to buy into the idea of a "Logan's Run" TV series when you realize that the author of the novel that inspired the film – William F. Nolan – actually wrote two sequel novels ("Logan's World" and "Logan's Search") as well as a novelette ("Logan's Return"), but as it happens, the series stands completely apart from Nolan's written word. Starring Gregory Harrison as Logan, Heather Menzies as Jessica, and Donald Moffat as an android named REM, "Logan's Run" sent its characters across post-apocalyptic America by hovercraft on a voyage to find Sanctuary. Given the era, the show was a relatively solid bit of sci-fi, thanks in no small part to having former "Star Trek" writer D.C. Fontana serving as the show's story editor, but in a rather obnoxious move, Warner Brothers has released the complete series of "Logan's Run" as iTunes downloads without making it available for purchase in a hard-copy form. Fingers crossed that the folks at Warner Archive will read this and take heed. Better to get a glorified DVD-R version that's authorized and somewhat cleaned up than a crappy bootleg version.
5. The Paper Chase (CBS, 1978 – 1979 / Showtime, 1984 – 1986): James Bridges' 1973 film version of John J. Osborn's novel turned producer John Houseman, a film and theater legend but an unknown to the general public, into an Oscar-winning movie star at age 71. Later, Bridges, Osborn, and Houseman brought "The Paper Chase" to television with likable James Stephens starring as earnest law-student James Hart who, week by week, struggled with the enigmatic method and deep mind-games of the unapproachable Prof. Charles W. Kingsfield, Jr. The idea of a show about extremely intelligent young people learning how to think and reason at a high level was a novelty in 1978 — not that it's commonplace today — and it was canceled after one season. However, such was the affection for the series that the show was successfully rerun on PBS. That led to a TV first: "The Paper Chase" went back into production in 1983 for premium cable's Showtime with author Osborn's involvement as well as most, but not all, of the initial cast. Not that anyone seemed to noticed: with Stephens and the charismatic, coldly witty Houseman on board, by the time Hart finally graduated, many viewers had no idea there had ever been a movie. – Bob Westal
6. Fast Times (CBS, 1986): Take this inclusion with a grain of salt, due to the fact that I haven't actually seen an episode of the show in twenty-five years, but I can tell you without hesitation that the 16-year-old me thought "Fast Times" was totally awesome. Granted, should it ever find its way to DVD (which seems an unlikely scenario, given the '80s music that it's undoubtedly laced with), it's highly possible that the 16-year-old me will turn out to have been a total spaz, but the names in the credits certainly help my credibility a bit: Amy Heckerling, who directed the original film, was one of the producers, and Cameron Crowe, who wrote the book on which the film was based, served as a creative consultant. Unfortunately, the only actors to reprise their roles were the teachers – Vincent Schiavelli was back as Mr. Vargas, and, yes, Ray Walston returned as the irascible Mr. Hand – but Courtney Thorne-Smith played Stacy, Patrick Dempsey played Damone, and Spicoli was played by Dean Cameron. Cameron and Thorne-Smith would soon re-team as part of the student body in the film "Summer School," in no small part because "Fast Times" lasted for a mere seven episodes.
7. The Real Ghostbusters (Syndicated, 1986 – 1991): This list could've been filled to the brim with animated spin-offs of live action films, but there are only two that really stand out, and this is the first of them. Anyone who watched Messrs. Murray, Aykroyd, Ramis, and Hudson bustin' ghosts on the silver screen could see the potential in an animated series, since it'd give the guys an opportunity to hunt bigger and better spooks without having to pay for all the special effects, but it was a pleasant surprise to find that the show hadn't been dumbed down for kids. Oh, sure, we could've done with a little less Slimer, and we still think Peter Venkman sounds less like Bill Murray than Garfield the Cat, but with J. Michael Straczynski – who would later go on to create "Babylon 5" – serving as the show's story editor and writing 21 episodes during the course of the series, the proceedings were both intelligent and funny, with some downright awesome creature designs.
8. In the Heat of the Night (NBC, 1988 – 1992 / CBS, 1992 – 1995): It was always going to take a heck of a role for Carroll O'Connor to be able to be remembered as anyone other than the hilariously bigoted Archie Bunker on CBS's "All in the Family," but damned if he didn't find one in Police Chief Bill Gillespie. The role was originated by Rod Steiger in the original 1967 film, directed by Norman Jewison, but O'Connor's general physical resemblance to Steiger coupled with the fact that viewers were already used to seeing the actor play someone who was a bit on edge around African-Americans made him about as perfect a casting choice as anyone could've hoped for. The role of Virgil Tibbs…well, okay, his mama calls him Virgil, but you can call him MISTER Tibbs…was taken on by Howard Rollins, who'd received acclaim for his performances in "Ragtime" and "A Soldier's Story." (In a nice bit of serendipity, the latter film was was directed by – wait for it – Norman Jewison.) Impressively, the series managed to survive a network switch after its fifth season, continuing on for two more proper seasons which were further supplemented by four two-hour films which approximate an eight season, making for a solid second act to O'Connor's television career and a decidedly successful movie-to-TV adaption.
9. Bill and Ted's Excellent Adventures (CBS, 1990): Given the title of the show, it's obvious that this animated series continues the adventures of Bill S. Preston, Esq. and "Ted" Theodore Logan, but insofar as its appearance on this list goes, we have to offer a very important caveat: we're only counting the first season of the show. Why? Because, believe it or not, the first thirteen episodes actually featured voice work by the original cast of the "Bill and Ted" films: Keanu Reeves, Alex Winter, George Carlin, and Bernie Casey. Also, for you cartoon purists out there, the first season was a Hanna-Barbera production. Season two…? DIC. No, thanks. If you've already got the Bill and Ted's Most Excellent Collection DVD set, then you've probably already discovered that the first episode of the first season is one of the bonus features, but for whatever reason, they've never bothered to release a proper Season 1 set. Given that it follows the feel of the films as closely as could be allowed on Saturday mornings, offering up episodes with titles like "A Most Excellent Roman Holiday," "The More Heinous They Are, The Harder They Fall," and "This 'Babe Ruth' BABE Is A DUDE, Dude," there's only one word to describe the delay: bogus.
10. Parenthood (NBC, 1990 – 1991): No matter what you may have thought of this short-lived series, it'd be unfair to leave it out of a feature which was inspired by NBC's second attempt to transform Ron Howard's 1989 film into a TV show. It didn't have as high a famous-face count at the time it originally aired, time has certainly been good to the careers of several of its younger cast members, most notably Thora Birch ("American Beauty," "Ghost World"), David Arquette standing in for Keanu Reeves, and, in place of Joaquin Phoenx, one L. DiCaprio. It's also worth noting that the "Parenthood" writing staff included a gentleman by the name of Joss, who at the time was still two years away from the big bang of the Whedon-verse, i.e. the movie version of "Buffy the Vampire Slayer." No matter how the show may have been, getting viewers to accept Ed Begley, Jr. and Ken Ober in place of Steve Martin and Rick Moranis was always going to be a tough sell. In the end, the first incarnation of "Parenthood" lasted only 12 episodes, but if this new version takes off, you can count on seeing a complete-series set available for purchase by Christmas 2010.
(In the meantime, however, the only way you can see any part of the series is to jump to the 5:07 mark in this clip and check out the opening-credit sequence.)
11. The Young Indiana Jones Chronicles (ABC, 1992 – 1993): Remember how "Indiana Jones and the Last Crusade" kicked off with that sequence where River Phoenix plays Indy as a battling boyscout of a teenager? Well, that got George Lucas to thinking, so he sat down and put together an elaborate timeline of Dr. Jones's early life and times. Unlike his more recent prequels, however, "The Young Indiana Jones Chronicles" proved to be a pretty darned good idea, serving as both a collection of rousing adventure tales as well as an educational trip through early 20th century history and – thanks to Indy's archaeological leanings – far earlier, too. It was also a clever idea to flip-flop between two different periods of Indy's youth, but for whatever reason, the adventures of 10-year-old Indy (played by Corey Carrier) were soon phased out, leaving only Sean Patrick Flanery to play the part, portraying Mr. Jones at ages ranging from late teens to early twenties. Some were underwhelmed by "The Young Indiana Jones Chronicles," feeling that they simply weren't as exciting as the films, but time has been good to the series, and the DVD sets are positively phenomenal, having been fleshed out with a plethora of documentaries about the historical events covered within the various episodes. If "The Kingdom of the Crystal Skull" didn't do anything for you, consider revisiting these "Chronicles" to give them another try.
12. Highlander: The Series (Syndicated, 1992 – 1998): Given the cinematic travesty that was "Highlander II: The Quickening," it's nothing short of a miracle that the world was ever presented with a "Highlander" television series, but just under a year after the sub-par cinematic sequel, we were introduced to Duncan MacLeod (Adrian Paul). Born in 1592, Duncan became an Immortal in 1622. Three years later, he crossed paths with Connor MacLeod (that'd be Christopher Lambert's character from the films), who became the lad's mentor, a move which directly connected the series to the movie while also allowed it to take its own path. "Highlander: The Series" ultimately lasted for six seasons, spawning an animated series as well as a proper spin-off ("The Raven") before ultimately coming full circle and returning to the big screen for "Highlander: Endgame," which brought Duncan and Connor together once more.
13. Buffy the Vampire Slayer (The WB, 1997 – 2001 / UPN, 2001 – 2003): It happens all the time: a talented young writer sells a screenplay, only to see clueless producers and directors turn a unique vision into straight-up pablum. What never happens is for that screenwriter to get the chance to transform that pablum back into that original vision. Third-generation TV professional Joss Whedon did the impossible when he regained control of the super-heroic ex-cheerleader first featured in director Fran Rubel Kazui's 1992's mediocre comedy. Creating a new backdrop for his heroine in fictional Sunnydale, California, he crafted a genuinely exciting show in which action, fantasy, Marvel comics soap opera, feminist social commentary and witty/silly comedy blended to create one of the most thoroughly engaging and acclaimed shows in the history of the medium. With Sarah Michelle Gellar as the teenager burdened with having to repeatedly save the world and an outstanding supporting cast as her loving, inevitably imperfect, support system, "Buffy, the Vampire Slayer" charmed geeks of all ages, critics, academics, and just enough of a general audience to last for seven always entertaining, sometimes devastating, seasons. As for memories of the original movie, when Kazui recently resurfaced with talk of a franchise reboot, nobody was very pleased. – Bob Westal
(FYI, trying to find the actual opening credits to any given season of this series has been made virtually impossible by the show's fans, who seemingly feel obliged to recreate them using their own favorite shots from the show or by using a different TV series' credits as a template or changing the song or…well, anyway, suffice to say that this is the closest to an unblemished version that I could find.)
14. Stargate SG-1 (Showtime, 1997 – 2002 / Sci-Fi, 2002 – 2007) and its brethren: While the average viewer might look back on the 1994 film "Stargate" and think, "Wow, I never would've imagined they could've gotten ten seasons of a TV series out of this flick, let alone three additional series," most sci-fi fans probably came within an inch of having their brains explode when they learned about the Stargate for the first time. Hello! It's a wormhole that opens a gate which allows for transportation between galaxies! When you consider the number of different places that could be visited…hell, you could have a 24-hour network filled with nothing but "Stargate" series and still never run out of material. Obviously, "SG-1" is the jewel of the franchise, but "Atlantis" has a lot of loyal fans, and if "Universe" has resulted in some seriously polarized opinions, give it time to build. As for the animated series, "Stargate Infinity"…well, it all depends on how far you're willing to take your fandom, I reckon. There's been talk for years about how Dean Devlin – co-creator of the original film, along with Roland Emmerich – wants to do two more "Stargate" motion pictures, thereby making it into a trilogy, but given that he wants to bypass all of the mythology created by the various TV series, I actually kind of hope the plan never comes to fruition. Talk about a slap in the face to the fans!
15. Clerks: The Animated Series (ABC, 2000): Given how we praised this show as being one of five animated series during the 2000s that deserved a longer run, it shouldn't be any surprise that it ended up on this list. (Mind you, the same probably wouldn't have be true if the awful live-action "Clerks" pilot had been picked up.) Kevin Smith obviously knew that any animated adventures of Dante, Randall, Jay, and Silent Bob on ABC were going to have to go a different direction than they'd gone in the art-house theaters in which "Clerks" had played, so he did: he skewered sitcom cliches, parodied films, gave Alec Baldwin the opportunity to play the villainous Leonardo Leonardo (there are several occasions where the voice you hear is clearly an embryonic version of what would eventually become Jack Donaghy), piled up a shitload of other guest voices, including Gwyneth Paltrow, Gilbert Gottfried, Al Franken, James Woods, Judge Reinhold, Michael McKean, Julia Sweeney, Kevin McDonald, and Charles Barkley, and basically just had fun with the expanded palate offered by an animated world. Of course, the fun only lasted for six episodes, and only two of those actually saw the light of day on ABC, but maybe someday Smith will make good on his assurances that he's got an animated "Clerks" movie script in him.
16. Soul Food (Showtime, 2000 – 2004): This drama instantly earns a mention for being the longest running drama with a predominantly African-American cast in the history of North American television…and if you think we're just randomly making this claim, think again: we got it straight from The Washington Post. Based on the 1997 film by George Tilman, Jr., which had been inspired by Tilman's own experiences, the series followed the life and times of the Joseph family, picking five months after the events in the movie. Ironically, the only actor to reprise their role from the film was the character who died – Irma P. Hall turned up as Mama Joe in the occasional flashback – but the show's ensemble was still a strong one: while earning precisely zilch in the way of Emmy love, the cast regularly racked up NAACP Image Award nominations, with Vanessa A. Williams and Debbi Morgan winning for Outstanding Actress and Outstanding Supporting Actress in a Dramatic Series, respectively. (The series itself took home the award for Outstanding Drama Series on more than one occasion.) Plus, it didn't hurt that the series had a killer theme song, too, courtesy of the Reverend Al Green.
17. Friday Night Lights (NBC, 2006 – present): Although hardly the most popular concept ever to make the transition from film to television, "Friday Night Lights" must certainly be one of the best. Both film and series were shepherded by Peter Berg, and while the movie was all too often downright depressing, what with its focus on the pitfalls of high school football, the series is an uplifting piece of drama that opens up the concept to show many more sides of a complex tapestry of lives. You don't have to like football to love this series, yet you do have to have an appreciation for damn good drama and strong characters, which, at its heart, is what "Friday Night Lights" is all about. A cast of mostly younger people is superbly led by Kyle Chandler and Connie Britton as Coach Eric Taylor and his wife Tami, who've moved to the small town of Dillon, Texas to make a new life. Along the way they find there's more to life than football, and if you are a pigskin fanatic, watch this is you'll discover much the same. – Ross Ruediger
18. Terminator: The Sarah Connor Chronicles (Fox, 2008 – 2009): While its execution was the source of fierce debate amongst its fan base, give the producers of "Terminator: The Sarah Connor Chronicles" credit for using the first two "Terminator" movies less as a blueprint and more as a launching pad to create a new universe outside of the movie's mythology. This was, of course, as much a matter of necessity as anything, since in the movie universe Judgment Day takes place in 2004 and Sarah had died of leukemia years earlier. Still, the show asked some large questions about fate (can we truly change it?) and faith (is it enough to simply believe in something?) that the movies tended to gloss over in favor of the next action set piece. Unfortunately, the show was too deliberate for its own good, constantly on the verge of launching a giant story arc but never actually doing it until they had been given their walking papers. But when the show was clicking – Catherine Weaver's killing spree in the factory, for example – "Terminator" offered some genuinely thrilling action and, for a show about killer robots, a healthy dose of humanity. – David Medsker
19. Crash (Starz, 2008 – present): Kickstarting the Starz line-up of original series was this adaptation of the 2004 Academy Award winner for Best Picture…but, really, it's less an adaptation than it is a series which plays off the general structure of the film. I mean, unless I missed them, there are no crossover characters between the two mediums. It's strictly a case of telling the stories of a disparate collection of individuals throughout the Los Angeles area…not that there's anything wrong with that. When you've got a cast that includes Dennis Hopper, Eric Roberts, Tom Sizemore, Tess Harper, Keith Carradine, Valerie Perrine, Julie Warner, Dana Ashbrook, Linda Park, and a host of others, all you really want to do is see them work and watch the drama unfold, which it does in a highly enthralling manner. The most important thing you should remember about "Crash" – and this should really go without saying, but we're gonna say it, anyway – is that if you didn't like the movie, you shouldn't be surprised if you tune in and find that you don't like the series, either.
20. 10 Things I Hate About You (ABC Family, 2009 – present): Although it's one of the strongest teen comedies to come out of Hollywood in the post-John-Hughes era (possibly because, like Hughes's work, it was more about heart than fart jokes), this didn't seem to be the most likely candidate for a series treatment. Kudos to Carter Covington, then, for taking the concepts from the film and using them as a springboard into a new and expanded look at the students of Padua Hugh: Kat and Bianca Stratford, Patrick Verona, Cameron James, Chastity Church, and so on down the line. And the best bit…? Larry Miller is back at Kat and Bianca's dad. ABC Family has put out lots of solid, enjoyable programming for teens over the course of the past few years, but like the movie which inspired it, "10 Things I Hate About You" is good fun for the whole family.
Great stuff, right…? Yeah, but there's always the flip side of the coin to consider, too, so before wrapping up, we'd be remiss if we didn't also cite a few series that didn't live up to their original source material:
1. Shaft (CBS, 1973 – 1974): There are a couple of reasons why "Shaft" never had much of a chance as a TV series. First of all, even though Richard Roundtree reprised his role as the black private dick who's a sex machine to all the chicks, the kind of things that Shaft was able to investigate on the silver screen don't necessarily lend themselves to broadcast television sensibilities. Nor, for that matter, did Shaft himself: the first thing CBS did was switch things up so that he was working with the police. Now that just ain't nothin' but jive.
What's arguably the funniest thing about the series, however, was that it was part of "The New CBS Tuesday Night Movies," alternating with a show called "Hawkins" which starred…Jimmy Stewart? God love the man, but can you imagine a "Shaft" fan tuning in to see their show, only to find an old white guy instead? No wonder it couldn't capture consistent ratings.
Unfortunately, there's not even so much as a clip of the series on YouTube (unless you count the CBS promo for the 1973 fall season, which features a lone shot of Shaft strolling down the street, looking far more bad-ass than he was ever actually allowed to act in the series), but you can at least hear a promo for the show.
2. Ferris Bueller (NBC, 1990 – 1991): Who would've expected that a show which was pegged as a "Ferris Bueller" rip-off ("Parker Lewis Can't Lose") would actually turn out to be funnier than the actual attempt to turn the film into a series? The "Ferris Bueller" series kicked off with the surreal suggestion that this Ferris was the real Ferris, and that Matthew Broderick was only playing him in the film. The problem: Charlie Schlatter was no Matthew Broderick. On the other hand, the actress who took over Jennifer Grey's part as Ferris's sister went on to bigger and better things, but we rather suspect that Jennifer Aniston hasn't listed "Ferris" on her resume in quite some time. (No, seriously, we're pretty sure even "Leprechaun" had a longer run on her CV than this show did.)
3. Weird Science (USA, 1994 – 1998): One bad John Hughes adaptation deserves another, and this one easily qualifies. Maybe it's because Hughes was so damned good at picking the perfect actors for his parts that it seems to have been nigh on impossible to turn his films into decent TV series, or maybe it's because most any attempt to reproduce his writing style generally comes off either unabashedly derivative or woefully unfunny. With "Weird Science," it was all of the above, but that didn't stop it from lasting for…are we sure this is accurate?…five seasons. Give the series credit for having a lot of interesting ideas, but despite Vanessa Angel managing to produce levels of hotness not terribly far removed from Kelly LeBrock, the execution never came anywhere close to matching the humor or heart of Hughes's film.
4. Clueless (ABC, 1996 – 1997 / Syndicated 1997 – 1999): I feel obliged to mention that, when it comes to the movie version of "Clueless," it's one of those flicks that invariably keeps me glued to the TV set whenever I happen upon it while channel-surfing, which means that I was predisposed to like the series it spawned. Making it part of ABC's TGIF line-up would've been enough in and of itself to keep me from watching it on a regular basis, but as Cher, Rachel Blanchard didn't have a third of the chemistry that Alicia Silverstone brought to the role. In fairness, however, we should note that Blanchard went on to far hipper roles…like, for instance, Sally on HBO's "Flight of the Conchords." Better she should be remembered as the inspiration for "The Most Beautiful Girl in the Room" than for her work on this show.
5. My Big Fat Greek Wedding (CBS, 2003): When "My Big Fat Greek Wedding" proved to be the huge sleeper hit of 2002, ultimately bringing in over $240 million at the box office, no one could've been any more surprised than the film's star and screenwriter, Nia Vardalos. Still, she had the savvy to quickly parlay its success into a deal to continue the story of Toula Portokalos Miller as a weekly sitcom. Given that the movie's humor barely rose above those levels, anyway, this made perfect sense. Unfortunately, where the film had charm to spare, the TV series was an absolutely painful viewing experience, inspiring cringing rather than laughing. As of this writing, the top comment on this YouTube clip reads, "Jesus Christ! 47 seconds into it and it's horrible!" Really? That's funny: we had it pegged at the 30-second mark.
Posted in: Entertainment, Movies, Television, Videos
Tags: Bill and Ted's Excellent Adventure, Buffy the Vampire Slayer, Clerks, Clerks: The Animated Series, Clueless, Crash, Fast Times at Ridgemont High, Ferris Bueller's Day Off, Friday Night Lights, Ghostbusters, Highlander, Highlander: The Series, In the Heat of the Night, Indiana Jones and the Last Crusade, Indiana Jones and the Temple of Doom, Logan's Run, M*A*S*H, My Big Fat Greek Wedding, Parenthood, Raiders of the Lost Ark, Shaft, Soul Food, Stargate, Stargate Atlantis, Stargate SG-1, Stargate Universe, Terminator 2: Judgment Day, Terminator: The Sarah Connor Chronicles, The Odd Couple, The Paper Chase, The Real Ghostbusters, The Terminator, The Young Indiana Jones Chronicles, Weird Science