Gentlemen, Start Your Engines: Bullz-Eye Attends the Daytona Coke Zero 400
There are those who, when approached with the opportunity to venture forth to Daytona Beach, FL, and attend not one but two NASCAR races, would do a dance of joy…one which would, quite possibly, resemble the Boot Scootin' Boogie. (Does anyone even still do that anymore? I apologize: my country music references are highly dated.) My reaction to this kind offer, however, was to acknowledge its inherent coolness in principle, then take a step back and allow someone else to take advantage of the opportunity. Yes, my inner child was jumping up and down at the thought of a free trip to Florida, but my inner journalist immediately reminded me of the score:
"Not only do you not know jack about NASCAR, but you have no real interest in any kind of sports. Surely someone…anyone…would be better suited to tackle this trip than you."
My inner journalist may not get to come out and play very often, but when he's right, he's right. Despite the accuracy of his premise, however, the reality of the situation was that there was no one else to tackle the trip: everyone else's schedule for the 4th of July weekend was already booked up. As such, all eyes turned to the guy who'd made the mistake of casually saying, "I guess I can do it if no one else is available."
Whoops. Guess I'm going to Daytona.
Day 1:
As I have never, ever taken a trip for Bullz-Eye that hasn't involved some sort of flight delay, it doesn't really come as any surprise that the trip from Norfolk to Daytona finds me stuck in Charlotte for longer than I'm supposed to be. I didn't even bother to try and find out what the problem was. I just shrugged, sat down and plugged in the laptop, and kept myself occupied until my flight finally did get around to taking off. I did have one brief panic attack when I called the hotel in Daytona to make sure that my delay wouldn't complicate the rest of the day's plans, only to learn that there was no reservation listed under my name, but it all worked out in the end. (Turns out everything was booked under the blanket name of "Dodge.") Once I successfully manage to fly Charlotte to Daytona, I take a taxi to the hotel, check into my room, and gaze longingly at the beach outside my window, never realizing that the weekend will work out such that I will never get to take advantage of it. Still, it sure looked nice…
Once I arrive, I meet my "handlers" for the weekend, Philip and Chuck, who work with Dodge through their employers, New Media Strategies. They're great guys, but they're very much car guys…not, as Seinfeld once said, that there's anything wrong with that. It's simply that I'm not a car guy. Oh, right, I don't think I mentioned that before, did I? Yeah, there's another really good reason why I wasn't necessarily the best person for this trip. And, yet, in a sense, I'm the perfect person, since I'm able to provide an outsider's view of the whole experience…or, at least, that's the angle I'm planning to take. (I say that like there's any other angle I can take.) I let Philip and Chuck know of my deficiency of knowledge in this weekend's events. They assure me that they'll fill me in if I need any additional education to fully appreciate the goings-on. For this, I am grateful.
We head over to Daytona Dodge, the site where the band Atomic Tom will be performing. While I admit that I hadn't been familiar with Atomic Tom prior to their name appearing on my schedule of the weekend's events, I'd done some YouTubing and checked out several live performances by the band, all of which left me confident that I'd really enjoy the concert. I was a little sketchy on interviewing them, though, since I really didn't know a whole lot about them. As it turns out, though, they are great guys, and we have a really nice chat about their history, career to date, and – most importantly for the purposes of this piece – how they came to be involved with Dodge's attempts to rebrand their brand name for a new generation of car enthusiasts. You can check out the results of that conversation right here, but if you'd rather finish this piece first…and, really, why wouldn't you?…then at least allow me to provide you with a little music by the band:
As you can see from the clip, the guys know how to put on a performance, and even though a highly unfortunate summer storm served to put a damper on attendance, Atomic Tom treated the show as if they'd been placed before a sold-out crowd and gave it their all. The originals sounded great – their sound is highly reminiscent of The Killers and The Bravery – and they deserve major bonus points for managing to work in three decidedly disparate covers: Van Halen's "Running with the Devil," Tears for Fears' "Everybody Wants To Rule The World," and Queen's "Tie Your Mother Down."
Both before and after the band's performance (but absolutely not during), I wander around Daytona Dodge and check out the various vehicles on display. Like I said, I'm not even remotely what you'd call a car guy, but even so, I'm thoroughly impressed with some of the old-school machines sitting in the showroom. I also get a preview of some of the cars I'll be seeing at the speedway, including the pace car as well as the #22 racer belonging to Brad Keselowski.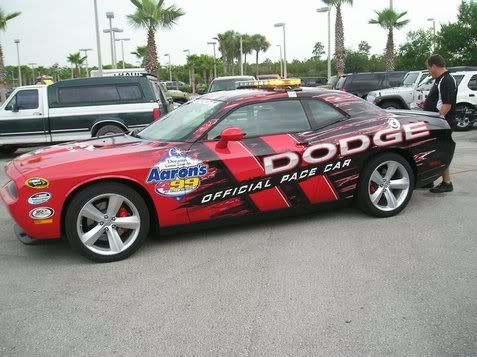 I should also mention that Justin Allgaier, driver of the #12 Verizon Dodge Charger, popped by the dealership after the band finished playing. I never really had a chance to chat with him, as trying to do a formal interview with him would've only served to frustrate him and make me feel like a tool for my lack of knowledge on his career (not to mention racing in general), but he seemed like a nice enough fellow during our brief encounter.
About halfway through our time at Daytona Dodge, the final member of our party arrives: Jen Dunnaway, with CarDomain.com. Given her employer, you will be unsurprised to learn that Jen is very much a car person. As such, I am able to offer very little to the conversation when we reconvene for a post-concert dinner at Vince Carter's, though it probably doesn't help much that I'm incredibly tired both from my travels and from standing in the Florida heat and humidity while watching Atomic Tom's performance. Still, the shrimp and grits were outstanding.
Once we return to the hotel, I'm out like a light within mere minutes of hitting the bed, secure in the knowledge that tomorrow will likely find me more out of my element that I have been in a very, very long time.
Day 2:
After a hearty buffet breakfast at the hotel, we head out for our first day at the races. Before heading to the speedway, we have to swing by and pick up our press credentials. There's a bit of confusion during this process, though, starting with the fact that the credentialing headquarters is nowhere near the track…I mean, it's a solid 5-minute drive away…and is somewhat tucked away so that it's not visible from the main road, and Philip and Chuck look momentarily pale when they learn that, although there are credentials waiting for Jen and I, the same can't be said for them. Fortunately, by the time they've left the designated registration area (which is located inside the trailer of 16-wheeler), they're good to go as well, and we head onward.
Although we've been given a pass which provides us with preferential parking, it still turns out to be a pretty significant hike from the lot to the outskirts of the track. Later, however, I see people more than a mile away from the track who are still walking to where they've parked their cars, at which point I realize that, hike or not, we were still relatively well off.
The Daytona International Speedway is of a size that immediately brought to mind Douglas Adams' observations on space, which would, if applied here, go something like this:
The Daytona International Speedway is big. You just won't believe how vastly, hugely, mind-bogglingly big it is. I mean, you may think it's a long way down the road to the chemist's, but that's just peanuts to the Daytona International Speedway.
I realize this reference is in no way familiar to those of you who have never basked in the genius of The Hitchhiker's Guide to the Galaxy, but it's nonetheless exactly what I found running through my head as I walked in and around the 2.5-mile circumference of this place. I can't begin to guess how much walking I did over the course of the weekend, but it was definitely more than I'd expected before signing on to this venture. Indeed, one of the first things I discovered upon our arrival was that approaching the gates of the Speedway should in no way be perceived as a sign that you're close to your actual destination.
Given our association with Dodge, we'd be setting up camp at their area within the Midway, which is actually on the outskirts of the Speedway…so, basically, we walked from the car to the Speedway, then we hung a left and kept on a'walkin', passing by stages, souvenir booths, food stalls, other automotive manufacturers, and promotional areas for various and sundry companies and products. By the time we made it to the Dodge area, all of us were more than ready to take advantage of the air conditioning within the Dodge trailer.
After soaking up the chill for several minutes, not to mention downing a Gatorade, I decided to venture forth and explore the midway a bit. I was appropriately awed by the number of giant inflatable beverages and freely took advantage of a few complimentary samples (I can now officially confirm that Riunite is quite nice even when it's not on ice), enjoyed seeing the various custom-designed trailers which served as the various racers' merchandise booths, and, as you can see below, I figured I'd get into the spirit of the weekend by having my picture taken whenever a booth offered to do so.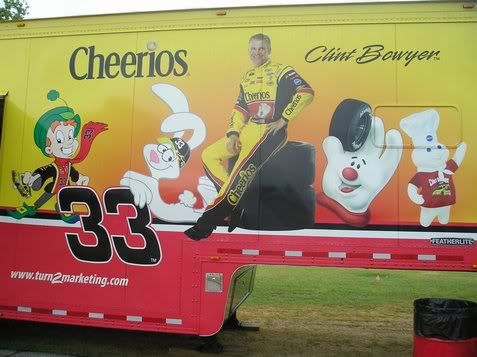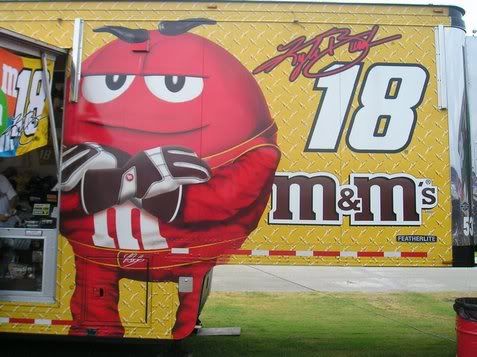 Oh, and right around the time I was finishing my stroll, the aforementioned Mr. Allgaier swung by for an autograph session. I wasn't there when he was doing his signing, but I did make it back in time to almost get hit by him as he drove off in his golf cart. Good times.
Okay, enough about the midway. After returning to the Dodge trailer, Philip and Chuck suggested that we head over to the infield of the track, so that I could see what things were like from that perspective. We descended into the tunnel which took us directly underneath the track itself…
…came out the other side, and kept on walking until we finally reached the infield area. Thankfully, our passes allowed to us to take a few shortcuts here and there, but it didn't cut that much distance out of the trip. We took a quick look around, photos of which you'll see directly below, and then grabbed some lunch. There was only one problem that I experienced, and it was one for which Philip, Chuck, and Jen apologized profusely, but…I wore shorts. One of my friends had made a comment to me before my trip that I'd want to wear long pants when visiting the pit area, but in the process of trying to prepare for the temperature of the speedway, I forgot his warnings and went for shorts for maximum comfort. Unfortunately, long pants aren't just a good idea. They're the law. Despite having a pass which granted me access to the garage area, I was refused entry because of my shorts. D'oh…
From there, we took a tram over to the grandstands, so that we could catch some of the drivers performing their qualifying rounds. (If you're wondering why we didn't take a tram to the infield, it's because we would've had to walk farther from the midway to catch the tram than we would've to just walk straight to the infield.) It only took moments to realize that all the warnings I'd received from my friends about how the volume of the cars would be staggering were completely on the money. I never got around to purchasing any earplugs, mostly because my ears have already been damaged from years of concerts, anyway, but make no mistake: it was loud. It was also my first up-close look at the cars performing at top speeds, and it was truly a sight to behold as they roared past. In no way do my photos do it justice, although they at least give you a bit of the feeling of how quickly they were passing me by.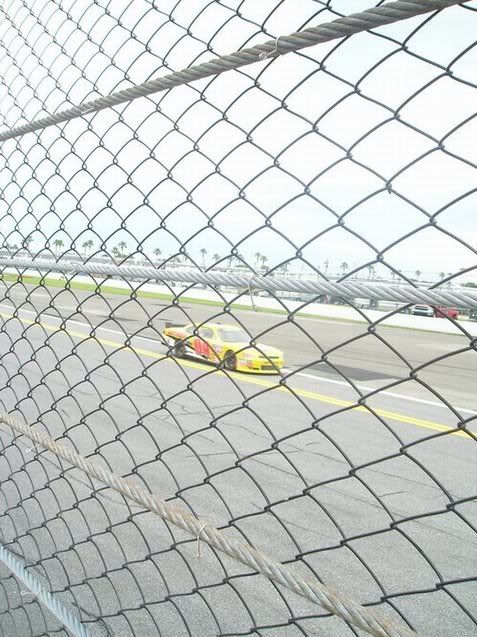 At this point, we retreated back to the Dodge trailer on the midway…walk, walk, walk…at which point Philip offered me the opportunity to head back to the hotel for a few hours and just chill out. I absolutely took advantage of this, although in typical fashion, I absolutely did not chill but, in fact, simply ended up getting on the computer and working. Even so, it was nice to be out of the heat and humidity for awhile. We returned to it soon enough, though, and I was kindly provided with a grandstand seat for the evening race: the Subway Jalapeno 250.
Philip and Chuck headed back over to the infield with Jen, who – being completely and totally in her element – was taking full advantage of the opportunity to bask in the car-ness of it all, interviewing drivers, exploring garages, and making the most of it all. (Indeed, we ended up leaving without her: she stuck around for the post-race press conference, so the guys dropped me back off at the hotel and then headed back to the track to pick her up.) Although I was now wearing long pants, it was a case of too-little-too-late, as the pits had shifted to "hot" mode because of the ongoing race, and we weren't allowed in there with the passes we'd been given. Not that stopped Jen, you understand…
Earlier in the day, I'd been assured that NASCAR races are one of the few sporting events where it's a good thing to have a seat in the nosebleed section. After hauling my already-tired ass and feet up more steps than I'd care to count, my feelings were that, based on that premise, my seat ought to be fucking awesome…and, as it turned out, it was. When I sat down and surveyed the track, I discovered that my vantage point allowed me to watch the cars all the way around, and I had the added bonus of a jumbotron screen in my line of sight as well, providing me with additional video coverage of the event. Now all I had to do was sit back, relax, and get into the right mindset.
I was somewhat surprised to find my heart soaring when I heard the four most famous words in auto racing: "Gentlemen, start your engines!" And when the cars roared into action, damned if my pulse wasn't pounding. I didn't expect to get so caught up in the event so quickly, but, man, I was really digging it. Unfortunately, the excitement proved short-lived. I found that I just wasn't able to maintain that level of excitement. This isn't something that I'm blaming on the event, though. I'm just not a competitive person by nature, so I found that, although it was undeniably awesome to see these drivers traversing the track at breakneck speeds, once I got past that, I didn't have anything else to hold onto…and, frankly, I started to get bored. I felt a little embarrassed about it, but it's true. Granted, it didn't help things any that I was confused about how much more of the race was yet to come.
This was my problem: I thought that, since the race was called the Subway Jalapeno 250, there were going to be 250 laps. Even now, I am convinced that this is not a stupid thing to think. It was, however, completely incorrect. The 250 signifies the number of miles in the race…and since it's a 2.5 mile track, that means it was only 100 laps. Unfortunately, I did not know this going in, so at the 50-lap mark, I'm, like, "Oh, my God, there is no way that I'm going to survive 200 more laps of this thing without falling asleep…and if I do that, these NASCAR fans are going to kick my ass!" And that would have absolutely been their right. Fortunately for me, however, it was soon after this moment of horror that I realized the error in my theory, and once I had, the final 50 laps positively zoomed by.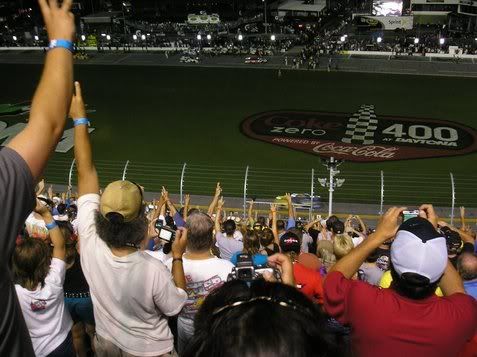 If you're wondering, Dale Earnhardt, Jr. ended up winning the race, and if you look carefully at the bottom of the above photo, you can see him making his reverse victory lap. I'm led to understand that it was a pretty big deal for him to have taken home the victory, so I tried to be appropriately impressed. Unfortunately, my enthusiasm was regularly muted by a drunken lout a few rows in front of me who insisted on screaming "Junebug!" at the top of his lungs every time Earnhardt drove by.
Before I wrap up Day 2, then, let me just offer my impressions of my first NASCAR race as an adult. Despite fearing the worst at the 50-lap mark, I really was impressed with the experience, but I just don't think I can ever be the kind of person who'd love the sport so much that he'd attend races whenever the opportunity arose. I absolutely understand why people love racing, because as I learned, it's astonishingly easy to get a rush from the speed you're witnessing. Beyond my non-competitive nature, though, the problem is that, although you've got a lot of fine, upstanding, intelligent individuals who thrill to the NASCAR experience, so many that they are almost certainly in the majority within the sport's viewership, you've also got the loud, obnoxious, fashion-challenged, often-intoxicated individuals, and they are so loud and so in-your-face that they all but force you to be aware of them…and, my God, are they distracting. They may be the statistical minority, but, hey, no matter how high class a neighborhood may be, if you stick a ratty-ass trailer in the middle of it, it's still going to bring the property value down dramatically, you know what I'm saying?
Day 3:
I'm not going to lie to you: when I woke up, I just was not feeling the Daytona Coke Zero 400. I'd been up late the night before because of the Subway Jalapeno 250, I had to get up relatively early, and, frankly, I couldn't help but feel that maybe one NASCAR race was enough for me. And, yet, believe it or not, I had no one to blame but myself for my early rise and subsequent trip back to the track. Philip and Chuck had told me the night before that I had the option to just hang out at the hotel for the day, since there was no specific agenda 'til the Coke Zero 400 that evening, and you will not be surprised to learn that I was very seriously considering taking them up on their kind offer to do absolutely nothing. But something was gnawing at me, and I quickly realized what it was: the guilt that I knew I'd feel if I didn't do something race-oriented for this article.
No, seriously. I really do have that kind of work ethic, and I really fucking hate it sometimes. But what can you do? I've been instilled with it, and I'm stuck living with it. And, so, Philip, Chuck, Jen, and I piled in the car, first stopping at Starbucks, then heading to the track for the NASCAR Rolex Grand Am Series race. Honestly, this is what made me want to come to the track: Chuck had played it up as being a more European-styled race, and I wanted to see what it was all about. It turned out to be pretty cool…well, you know, up to that same point when I'd been sufficiently impressed by the speed of it all. Unfortunately, looking at this shot, which I took during the race, you can see that Americans can't seem to muster much enthusiasm for Grand Am racing, which seems a real shame.
I can't really blame them, of course, given that I got bored pretty quickly, too. As the others walked back to…actually, I don't know where they were, but they weren't with me, anyway, because I'd decided that I just needed to step away from the racing for awhile. How did I accomplish this? By walking over to the Barnes & Noble across the way from the speedway. It felt like a total cop-out even as I was doing it, but I have no regrets. I spent about 45 minutes over there, totally recharged my batteries, and found myself once again ready to take on the world…or, if not the world, at least another NASCAR race.
As I walked back, however, the batteries began to be drained again. Fortunately, when I made it back to the Dodge trailer to meet the rest of the bunch, I was greeted with a surprise: we'd been provided with the opportunity to tootle around the area in a Dodge golfcart.
And tootle we did, getting a chance to explore the depths of the infield without having to exhaust ourselves in the process. Let me tell you this: you have never seen so many trailers and wading pools in your life. Race fans are permitted to set up camp in the middle of the track, which is a pretty cool idea, but, my God, the water in some of the wading pools – which, as you may have guessed, are a cheap and easy way to keep cool while you're hanging outside – looked absolutely disgusting. Seriously, one looked like it may or may not have had some degree of fermentation going on. Despite grotesque imagery such as this, the opportunity to explore the nooks and crannies was a lot of fun. We soon parked the vehicle, headed into the actual infield on foot, and got the chance to stroll around as well as enjoy a free concert by Darius Rucker, late of Hootie and the Blowfish.
As you can probably tell from the photos, the weather was less than wonderful, and not long after this, the rain began to fall. Fortunately, we were able to get back to Dodge headquarters to return the golf cart before the deluge started, but since they were preparing to close up shop for the race, we had to move our stuff elsewhere. Because it was starting to rain, I asked Philip if he'd stash my electronic equipment in his bag, which he kindly did, and we made the group decision to take our bags to the car. I followed suit, as I had dutifully been doing all weekend, and as the rain fell on us, I continued to do my best to maintain their pace. I didn't succeed, but, by God, I tried…well, up to a point, anyway. Finally, as the rain poured down on us, we made it to the car, and we decided to wait out the storm in the car, since we knew that the rain was going to cause the race to be delayed, anyway. It was at that point I explained to the group why my pace had slowed so dramatically at the end: it was because I realized that I was a complete dumbass. I didn't even have a bag. I never needed to go on that walk in the first place!
Eventually, the rain stopped, and so we headed back to the track. Philip and Jen returned to the infield, Chuck and I took our seats in the grandstand, and we watched as they dried the track so that they might get down to racing. It took a little while, but the race finally got started about an hour and a half after it had originally been set to kick off. Chuck and I stuck it out in the grandstands for the first 2/3 of the event, but we eventually decided to meet the others in the infield…and, frankly, our timing couldn't have been worse. I'm not saying that I was happy when there were accidents during the races, but I won't lie to you: the adrenaline does tend to start pumping when metal starts twisting and fire begins to burst forth from the cars, and the biggest one of the entire weekend happened right in front of where we were sitting. Unfortunately, the emphasis is on "were." We were already in the infield when the accident took place, so our vantage point, which would've been spectacular, ended up being virtual nil.
Here's what happened:
Rough stuff, that…and, by then, I was feeling pretty rough myself. By the time the race finally ended (which still took quite some time, since there was yet another accident a few laps later) and we got back to the hotel, it was almost 1:00 AM…and I had to be up at 4:00 AM in order to get to the airport and catch a 6:00 AM flight back to Norfolk. If you do the math, you can imagine that I spent the next day pretty well wiped out. But I will say this: because of the weather delay and the various accidents, the race didn't end until after midnight, which means that I was watching the post-race fireworks on the 4th of July. That was pretty awesome…and so, it must be said, was the majority of the trip.
Whether you're a NASCAR fan or not, if you ever get the chance to attend a NASCAR race, you should absolutely take advantage of the opportunity. Even if you find yourself getting bored at some point during the event, the rush you'll get when the race begins…there's really nothing quite like it.